A Detailed Review of the AR Stoner Pistol Upper
Let's get to the point, you are here to find out if an upper from AR Stoner is a good option for you. 
For a brief overview while there may be better options overall, when you consider the price, dependability, and convenience an upper from AR Stoner is a choice you should at least think about.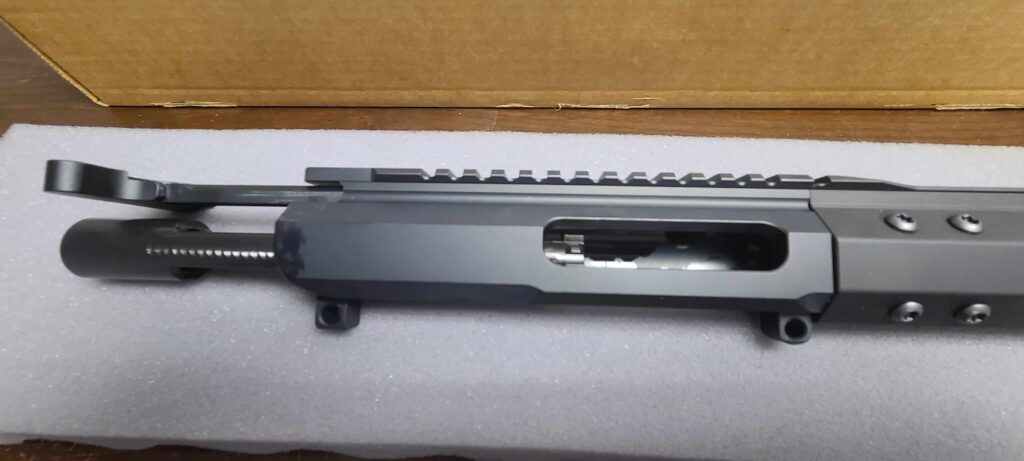 With that let's dive into the details as to why I feel this way. 
Pros of the AR Stoner Upper
The AR Stoner uppers provide several benefits and for the purposes of this article, I am specifically reviewing the 7.5-inch complete upper chambered in .223 Wylde designed for pistol use.
Price of the Upper
The first area to discuss is price. Many times when purchasing uppers they do not come with bolt carriers and charging handles. Not the case with this particular model. It is available completely assembled including bolt carrier group, barrel, gas tubes, charging handle, and hand guards. 
All for a price of just around $300. In the case of the one I purchased from MidwayUSA it was actually on sale recently for just $259 which is what prompted me to buy it. That is a price you cannot bet with nearly any other reliable brand. 
Material of the Upper
The next concern when considering a purchase is that it is going to be durable. In the case of the AR Stoner Upper that I received, I was very happy with the materials, it is a bit heavier than some of the aluminum alloys I have seen on other uppers. 
However, I feel that it has a nice balance of weight and isn't too heavy to carry for an extended time frame. 
The actual steel used for the barrel appears to be 416R stainless according to the website, however, I am not a metallurgist and cannot confirm this. It seemed to be of decent quality. 
Design of the Upper
I was pleasantly surprised by the look of the upper when I received it. To me, it gives off a clean look. I noted that some of the edges seemed a bit sharper from the machining but not to the point that they were uncomfortable. 
Examining the fit of the bolt into the firing chamber it locks quite firmly and appears to have been machined to tight tolerances. So much so that I was a bit leery trying the bolt in my Smith and Wesson AR 15. 
It was snugger than I liked the S&W and I think it is best left in the AR Stoner.
The upper also features a Picatinny rail system that runs along the entire top of the upper providing excellent attachment options along there for a scope. In addition to this, the hand guard features M-Lok slots allowing attachment points there as well. 
I attached the Upper to several different lowers I had on hand and in each case the fit was snug and the pins did not seem loose at all. Overall I felt that this was a well-built part. 
Cons of the AR Stoner Upper
Considering the price I paid, I did not have many downsides to the upper that I received. There were a couple of things to keep in mind though.
First, while it is available on some of their models, the one that I ordered and received did not have a forward assist. For some people, this might be a deal breaker and is often considered an integral part of the AR platform. 
However, I did not have any issues with jamming or the bolt seating in the 300 or so rounds I fired through this upper when I received it. I understand that more rounds could change that but I felt this was a reasonable test batch. 
Another part that is lacking in this model often found on other AR uppers is the dust cover or ejection port cover. Not only is the cover itself missing, but the actual mounting points are also lacking as well. 
I don't see this as too much of a problem for a rifle used for sport and leisure shooting though as normally the weapon will be stored in a protected environment and not drug through all sorts of wild terrain. 
Performance of the 5.56 Wylde Stoner Upper
When I received my upper it was a few days before I could get it attached to my pistol lower and take it out shooting due to work and weather. However, once I got around to it, it went without a flaw.
Placing it on a lower I had handy I attached my BSA Pistol scope just so I could zero it in and get a few rounds down range. 
Getting a zero at 25 yards only took a few rounds and then I moved the target out to 50 yards which is about the furthest I can set it on my property. 
I then proceeded to fire 300 rounds without a single jam or misfire. Each time the bolt extracted the spent casing and ejected it with no issues. I was able to get under a 2-inch MOA, usually closer to 1-inch without issue. 
The majority of the rounds I fired were .223 rounds. However, since it was a Wylde barrel I tested a box of 5.56 X-Tac rounds through it since I had them on hand. These also functioned without any issue and I was able to get the closest to the 1-inch MOA at 50 yards using these rounds. 
AR Stoner Upper Calibers Available
If a .223 or a 5.56 aren't your cup of tea or you are looking for something else, I saw AR Stoner uppers in all of the other major calibers including 9mm, 300 Blackout, and 6.5 Creedmore. 
In each of these cases, the uppers came complete with bolt carrier groups and all the other parts needed for your upper. This way you could have several calibers for the same lower if you chose to. 
Especially when you can even get magazine adapters to fire 9mm rounds in a .223 or 5.56 lower. 
Are There Any Similar Priced Options
While I have not tried them personally if you want some other low-priced options for AR uppers you could try Bear Creek Arsenal or AERO Precision.
Both of these companies have options for completed uppers around the $300 mark. There are others out there, but make sure to do some research first and be aware of what you are getting.
Conclusion
While not the absolute best upper that I have ever purchased, the AR Stoner does have its merits. When looking to build an AR on a budget be it a pistol or a full-sized rifle AR Stoner is an option you should consider. 
When you are considering an SBR though, things change a bit, knowing you're going to have to spend the money on a tax stamp, I suggest upgrading to a well-known brand.